Mitsubishi Service Department
Our Service Department
Problem with your vehicle? Time for your next scheduled maintenance? Our well trained service staff are here to provide you with the highest levels of customer satisfaction.
Our Location
Russ Darrow Mitsubishi
W226S1700 Hwy 164
Waukesha, WI 53186 Get Directions
Service Hours
| | |
| --- | --- |
| Monday | 7:00 am - 5:30 pm |
| Tuesday | 7:00 am - 5:30 pm |
| Wednesday | 7:00 am - 5:30 pm |
| Thursday | 7:00 am - 5:30 pm |
| Friday | 7:00 am - 5:30 pm |
| Saturday | 8:00 am - 12:00 pm |
| Sunday | Closed |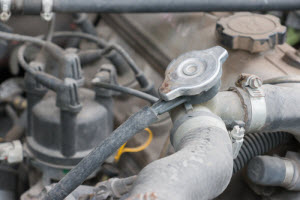 Welcome to the Russ Darrow Mitsubishi Service Department. Whether you need an oil change, tire rotation, battery repair, or new set of brakes, the Service Department at Russ Darrow Mitsubishi has your automotive maintenance needs covered.
About Our Service Department
At Russ Darrow Mitsubishi, our team of certified technicians provide top-of-the-line maintenance services to drivers throughout Milwaukee, Waukesha, and Pewaukee. We're equipped with the latest tools and technologies to keep your Mitsubishi running like new, and we'll do everything we can to return your vehicle to the road safely.
Educate Yourself on Automotive Maintenance
On this page, you'll find information about the automotive maintenance and repair services we offer, including Mitsubishi engine tune-ups, tire repairs and replacements, and more. We cover a variety of topics about automotive maintenance. Some of them include:
Mitsubishi maintenance schedules
Facts about oil changes
Dashboard light guides
Transmission services and repairs
Battery services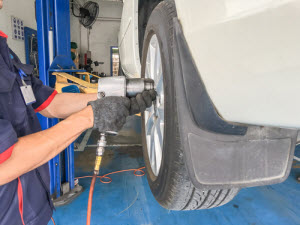 Russ Darrow Mitsubishi provides this information to ensure your vehicle receives the routine maintenance it needs. Regularly maintaining your Mitsubishi ensures your vehicle performs at its best, and can even prevent potentially serious mechanical problems from arising.
If you've experienced any mechanical problems with your Mitsubishi—grinding brakes, pulling from side to side, burning smells coming from the engine—these resources can help put a name to the symptoms you experience. That way, you'll know what your vehicle needs to get repaired and can help prevent these issues from arising in the future.
Scheduling Maintenance at Russ Darrow Mitsubishi Service Department
Whatever your automotive maintenance needs entail, the Service Department at Russ Darrow Mitsubishi is in your corner. Our automotive maintenance services range from oil changes to post-accident repairs, and the certified technicians in our shop are committed to getting your vehicle back on the road as soon as possible.
The Russ Darrow Mitsubishi Service Department is conveniently located at W226S1700 Highway 164, Waukesha, WI 53186. You can also call the department at 888-337-5779.
Any time your Mitsubishi needs service, contact Russ Darrow Mitsubishi, proudly serving drivers in Milwaukee, Waukesha, and Pewaukee.