Mitsubishi Vehicle Comparisons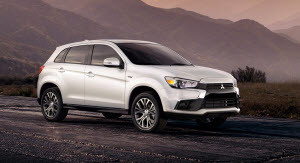 Welcome to the Russ Darrow Mitsubishi vehicle comparison library. As a proud Mitsubishi dealer to the Waukesha, Milwaukee, and West Allis area, we do everything we can to help our drivers come to the decision that's best for them in terms of their next vehicle. One of the best ways to help our drivers find their next vehicle is by providing them with our comprehensive vehicle comparisons.
On this page, you'll see a list of the Mitsubishi models that we currently have in stock. All you have to do is locate the vehicle you're interested in, click, and learn how it stacks up to its competition.
How Our Vehicle Comparisons Help You
When you're in the market for a new car, you're probably making a list of all the vehicles that appeal to you. You're doing your research to learn as much as you can about the vehicles, but comparing them is one of the most effective ways to shorten your list and find the vehicle that speaks to you. You can save yourself so much time by learning about how your favorite vehicle compares to others from a different automotive brand. At Russ Darrow Mitsubishi, we're just happy to help you on your journey.
Do I Need to Read These Pages?
Reading these pages isn't a requirement. They're simply here as a resource for drivers in the Waukesha, Milwaukee, and West Allis area who are actively searching for a new car. Buying a new car is a major decision that requires a lot of consideration and research, so we like to help by supplying you with the necessary information to help you make an informed decision.
In these articles, you'll learn how Mitsubishi models compare in terms of engine performance, space and comfort, entertainment and technology, and safety. By reading these articles, you'll learn about which vehicles appeal to your interests, and which ones don't.
All you have to do is find the vehicle that you like on this page to learn about how it measures up on the automotive market.