Cabin Air Filter Replacement Service in Waukesha, WI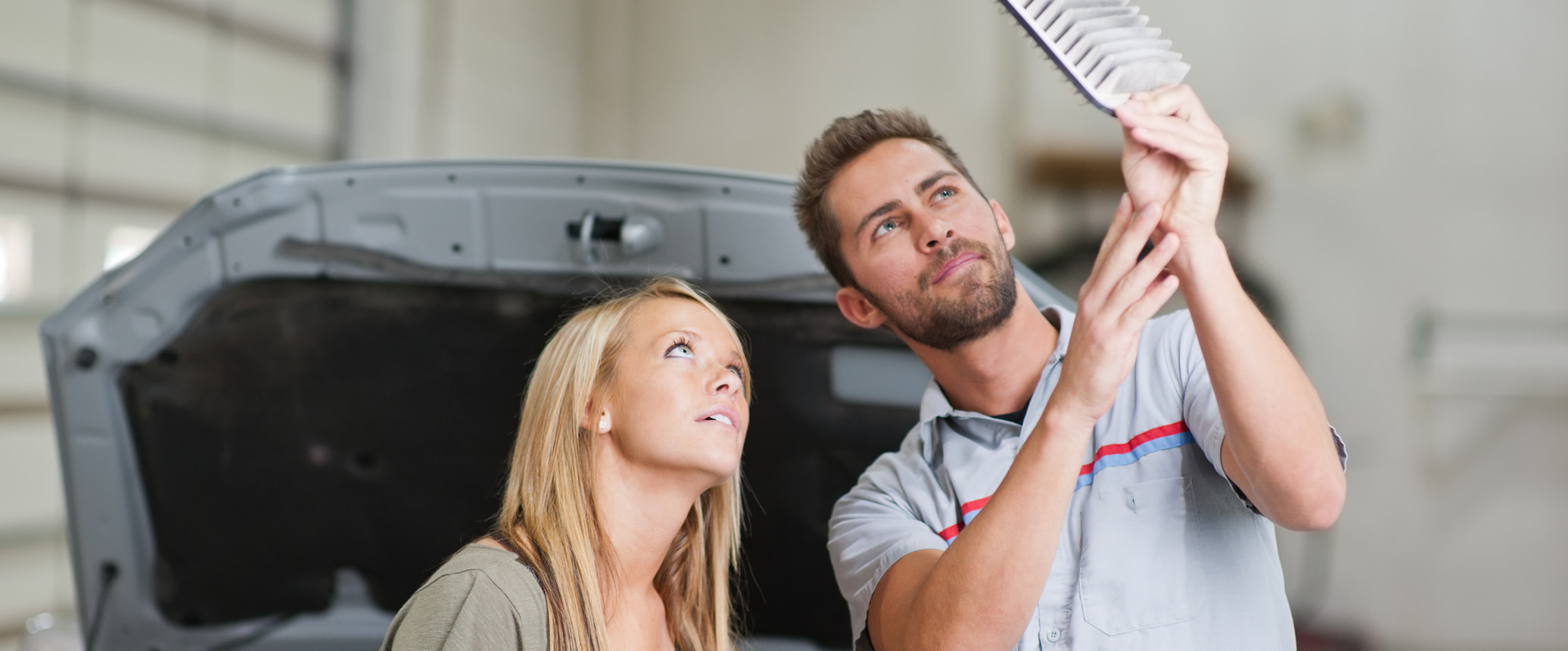 If it's been a while since you've thought about your cabin air filter, we at Russ Darrow Mitsubishi completely understand. Afterall, it's not that often that anyone mentions it in conversation! Well, consider this your friendly reminder to have a professional take a look at this component every so often, as it provides several worthwhile benefits when you're cruising along the highway.
What Does the Cabin Air Filter Do?
Let's get thing started off on the right foot by exploring what the cabin air filter does. In general terms, this part is critical when it comes to what is and isn't allowed into your ride. In fact, if you've ever wondered why you don't immediately suffer negative consequences when trucks in front of you let out a plume of smoke, it all has to do with the filter. Apart from smog, germs, pollutants, and bugs, this component also prevents pollen and other allergens from floating around in the cabin. So, if you're particularly susceptible to runny noses and itchy eyes, it's best to stay consistent with your replacements.
Timeframe
Now that you're up to date on the basic function of your cabin air filter, it's time to talk about how often you should swap yours out for a new one. While the general consensus is to handle it about once every year, the team in our Service Department would like to suggest checking your Owner's Manual or swinging by our location to get a more accurate estimate. Ideally, you'll want to avoid any negative signs before they occur, but you should know what to look out for regardless. If you see that your climate control unit isn't as powerful as it once was, this could be an indicator that your filter has reached the end of its life. Moreover, musty smells can be caused by a clogged component, so be sure to have a professional get to work if you are experiencing this when you open the door.
Why Choose Russ Darrow Mitsubishi?
With so many locations willing to accept you as a customer, don't settle for just any Service Department. Choose one that takes your business seriously and is committed to going the extra mile to secure you as a client. Not only do we believe that we are the right shop for you, we also feel that we're more devoted to your needs all around. That's why we provide so many online tools. For instance, you'll be able to schedule your service with us without picking up the phone. Additionally, we have a Tire and Parts Department on site, which means you can count on us for much more than maintenance procedures!
Get a cabin air filter replacement service in Waukesha, WI, from the technicians at Russ Darrow Mitsubishi. We can't wait to get to work on your behalf during our accommodating hours.

Service Hours
262-444-5404
| | |
| --- | --- |
| Monday | 7:00 am - 5:30 pm |
| Tuesday | 7:00 am - 5:30 pm |
| Wednesday | 7:00 am - 5:30 pm |
| Thursday | 7:00 am - 5:30 pm |
| Friday | 7:00 am - 5:30 pm |
| Saturday | 8:00 am - 12:00 pm |
| Sunday | Closed |