2017 Mitsubishi Mirage G4 for sale near Milwaukee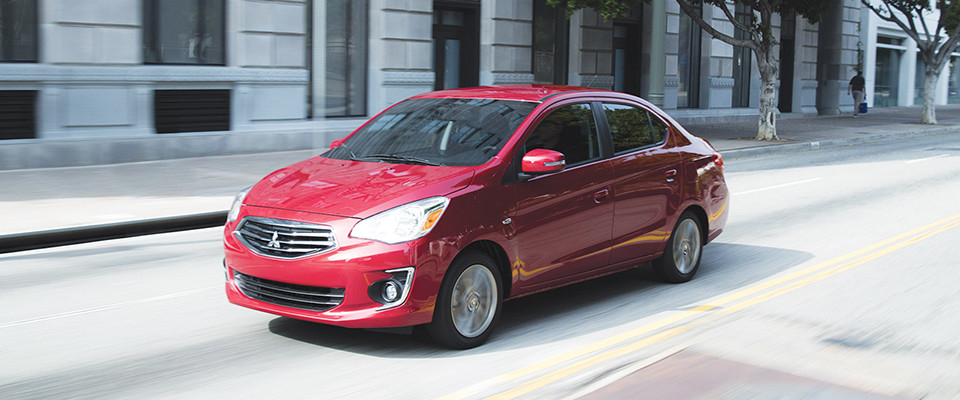 View 2017 Mitsubishi Mirage G4 Inventory
2017 Mitsubishi Mirage G4 for sale near Milwaukee
Navigating Milwaukee's 1,450.5 miles of streets is far easier in the 2017 Mitsubishi Mirage G4 than with just about any other car. Why? Take the Mirage G4's short wheelbase, at 100.4 inches. This means you can get in and out of tight spaces quickly and easily. Take the gas-sipping 35 MPG (city) and 42 MPG (highway) fuel efficiency. To really take in this sturdy little subcompact, come down to Russ Darrow Mitsubishi in Waukesha to take the 2017 Mitsubishi Mirage G4 for a test drive. Until then, take note of these great takeaways.
Ten Years on Milwaukee's Streets
For Milwaukee car buyers, financing a car for five years and selling it in four is all too typical. City driving can be grueling on any car, but with the 2017 Mitsubishi Mirage G4, Milwaukee residents can rest assured their commuter car or family fun car will still be getting the job done long after the final payment.
A ten-year or 100,000 mile Powertrain Limited Warranty is only the beginning of the protection Mitsubishi offers Milwaukee drivers through the Russ Darrow dealership. You also get:
Five years (or 60,000 miles) of Mitsubishi's fully transferable Basic Limited Warranty
A five-year (or 60,000 mile) warranty on the safety restraint system
Seven years (or 100,000 miles) of anti-corrosion/perforation protection with a Limited Warranty
Five years (with no mileage limitation) of Roadside Assistance
Thinking of Milwaukee's potholes, Milwaukee winters, and your fellow Milwaukee drivers, these reassurances can add peace of mind to your daily drive.
Hot Stuff
Milwaukee car buyers know enough to consider the city's average of 47 inches of snowfall a year. That takes a toll on cars and drivers, so Mitsubishi's seven-year anti-corrosion warranty and heated front seats (standard on the SE) are great benefits. Also great:
Traction Control Logic
Active Stability Control (ASC) — This computer-communicating system employs sensors that monitor each tire's grip on the road; when a wheel begins to slip, the system communicates with the ABS to apply the brakes to the wheels with the most traction, helping you to stay in control on Milwaukee's wintry streets
Four-channel Electronic Brake-force Distribution with Brake Assist
All three of these safety systems work together to give you confidence on the road, no matter the road conditions.
Nearly on a Dime
The 2017 Mitsubishi Mirage G4 as outfitted for Milwaukee drivers offers a best-in-class turning radius at only 15.75 feet, letting you navigate narrow city streets, tight corners, and extremely tight street parking spaces.
Cool Comfort
Balancing Milwaukee drivers' love-hate relationship with winter, summer city driving is no sweat in the 2017 Mitsubishi Mirage G4. Consider:
Air conditioning — Standard on the ES
Automatic Climate Control — Standard on the SE
Hill Start Assist (HSA) — Milwaukee may not have many hills, but if you are new to the Mirage G4's five-speed manual transmission, even the slightest hill can be unnerving; the HSA helps prevent the vehicle from rolling backward when you activate it, by holding the brakes for two seconds while to engage the clutch and accelerator
Micron air filtration — Standard on both models of the 2017 Mitsubishi Mirage G4
Remote Keyless Entry — Standard on both models, saving you from fumbling for car keys in the heat
Test Drive
The 2017 Mitsubishi Mirage G4 is a perfect fit for Milwaukee drivers looking for economy, ease of handling, and reliability. Come down to Russ Darrow Mitsubishi in Waukesha to see, sit in and test drive the 2017 Mitsubishi Mirage G4. It will not take you long to realize what a great buy, sporty drive and solid car this is, for Milwaukee streets, Wisconsin highways, and beyond.
Directions to Mitsubishi Milwaukee
Contact us about the 2017 Mitsubishi Mirage G4