2017 Mitsubishi Mirage G4 near Milwaukee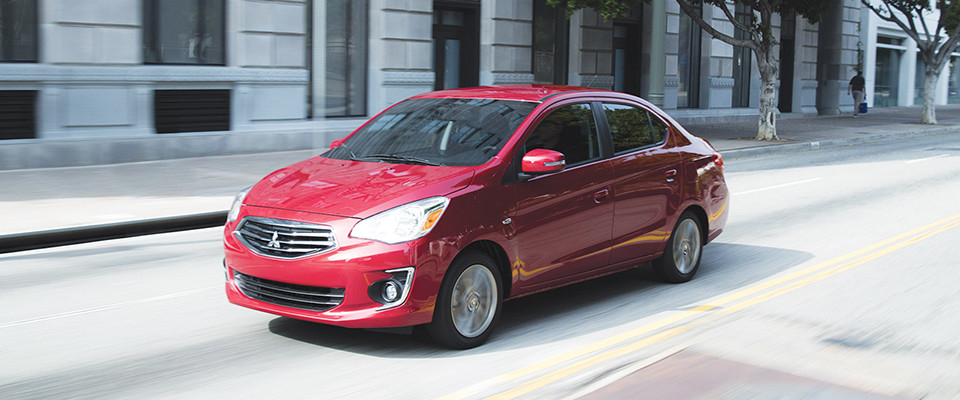 View 2017 Mitsubishi Mirage G4 Inventory
2017 Mitsubishi Mirage G4 near Milwaukee
If you want high fuel economy and low emissions, our team here at Russ Darrow Mitsubishi recommends the 2017 Mitsubishi Mirage G4 near Milwaukee. In our inventory you will find a large selection of Mirage G4 models, and our team of Mitsubishi experts is ready to answer your questions about technology, design, performance, and much more.
Innovative Performance of the 2017 Mitsubishi Mirage G4
Thanks to an array of fuel-saving technologies, the 2017 Mitsubishi Mirage G4 near Milwaukee may achieve up to 35 mpg in the city and 42 mpg on the highway. Transmission options may include a 5-speed manual and a continuously variable transmission, and braking features may include electronic brakeforce distribution with brake assist, plus active stability control and traction control, which gives you greater confidence and control on the road. Many of our models also feature a hill start assist feature that temporarily prevents roll back as you switch your foot from the brake pedal to the gas pedal. Electric power assist steering offers agile and responsive handling, and the suspension system may include a MacPherson type strut and torsion beam.
If you want to know more about safety features, ask our team about the tire pressure monitoring system that alerts the driver when any of the tires need air. Should an accident occur, the Mirage G4 uses a variety of features to help protect vehicle occupants, such as seven standard airbags, three-point seatbelts, and a RISE body construction.
Features of the New Mitsubishi Mirage G4 near Milwaukee
Comfort and convenience are two more reasons you may want to check out the new Mirage G4 from Mitsubishi. All of our models offer a city-smart compact body with a surprisingly spacious interior. With up to 12.3 cubic feet of cargo space, you have plenty of room for weekday trips to the grocery store, and the climate control system ensures you and your passengers are cool in the summer and warm in the winter. When you take the Mirage G4 on a weekend trip, you can use cruise control to save fuel on the freeway, and standard power side mirrors can help you see the areas around your vehicle in heavy traffic. The 2017 Mitsubishi Mirage G4 near Milwaukee also offers some impressive technology options, such as seamless smartphone integration.
To learn more about the 2017 Mitsubishi Mirage G4, please give our team a call at 888-310-8856, or visit our automotive center at W226S1700 Hwy 164, Waukesha, WI 53186. We have worked with drivers from many different parts of Wisconsin, and now we would like to use our resources and expertise to serve you. Get in touch today.
Directions to Mitsubishi Milwaukee
Contact us about the 2017 Mitsubishi Mirage G4