2017 Mitsubishi Mirage G4 near Franklin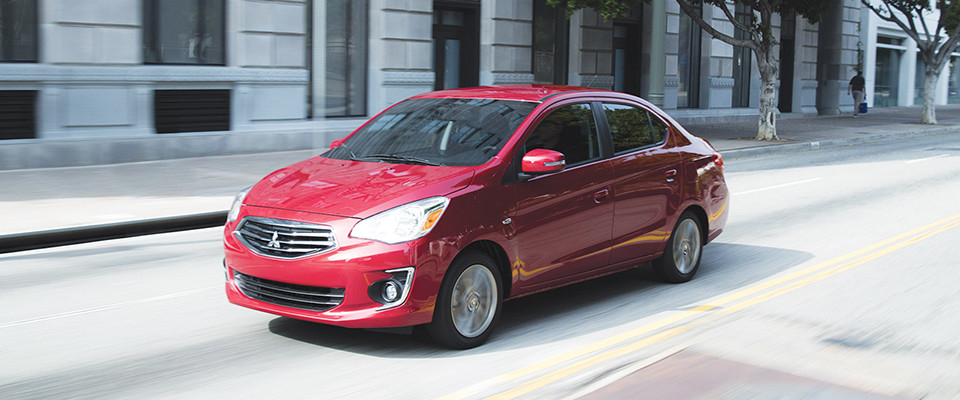 View 2017 Mitsubishi Mirage G4 Inventory
2017 Mitsubishi Mirage G4 near Franklin
If you like subcompact cars, you should consider the 2017 Mitsubishi Mirage G4 near Franklin at Russ Darrow Mitsubishi. This impressive subcompact sedan offers a stylish exterior, a comfortable interior, and an inspiring array of convenience features. In addition, the 2017 Mitsubishi Mirage G4 also offers the latest entertainment and safety features on the market. Therefore, it offers good value for your money.
The Performance of the 2017 Mitsubishi Mirage G4
The 2017 Mitsubishi Mirage G4 near Franklin is powered by a 1.2 liter, 12-valve, 3-cylinder engine that generates 78-horsepower and 74 lb-ft of torque. This engine features MIVEC® variable valve timing technology that increases the amount of power generated from every drop of gasoline. Therefore, thanks to this technology, less fuel is required to produce the required power. This engine pairs with either a quick-shifting 5-speed manual transmission that offers more control or a continuously variable transmission that is also tuned to boost fuel efficiency. Power is sent to the front wheels.
With the 5-speed manual, this car achieves a fuel economy rating of 35 mpg combined (33 mpg city/40 mpg highway). With the continuously variable transmission, it achieves an even better fuel economy of 37 mpg combined (35 mpg city/42 mpg highway). In addition, the 2017 Mitsubishi Mirage G4 is also fun-to-drive. Its lightweight body is easy to wield and its steering system is tuned to facilitate quick responses, so you are assured of nimble handling with this car. The 2017 Mitsubishi Mirage G4 also offers the best turning radius in its class – a 15.75-foot turning radius. Therefore, you can make very sharp turns and maneuver through very tight places with this car.
Comforts of the 2017 Mirage G4 near Franklin
In addition, the 2017 Mitsubishi Mirage G4 near Franklin also offers a roomy and comfortable interior. In the front, it offers 39.1 inches of headroom and 41.7 inches of legroom, while in the rear it offers 36.9 inches of headroom and 37.2 inches of legroom. This is more space than that which most other subcompact cars offer. In addition, this car also offers a more- than-adequate 12.3 cubic-foot trunk, so there is plenty of room for your luggage and shopping
This car also offers an available automatic climate control system that automatically heats or cools the cabin to maintain your preset temperature settings. For added convenience, it also offers available keyless ignition and entry, available heated seats, and an available cruise control system.
For a more comprehensive breakdown of the features of the 2017 Mitsubishi Mirage G4, come to Russ Darrow Mitsubishi at W226S1700 Hwy 164, Waukesha, WI 53186. We at Russ Darrow Mitsubishi have been serving the people of Franklin with Mitsubishi Mirage cars for years.
Directions to Mitsubishi Franklin
Contact us about the 2017 Mitsubishi Mirage G4