2016 Mitsubishi Outlander for lease in Menomonee Falls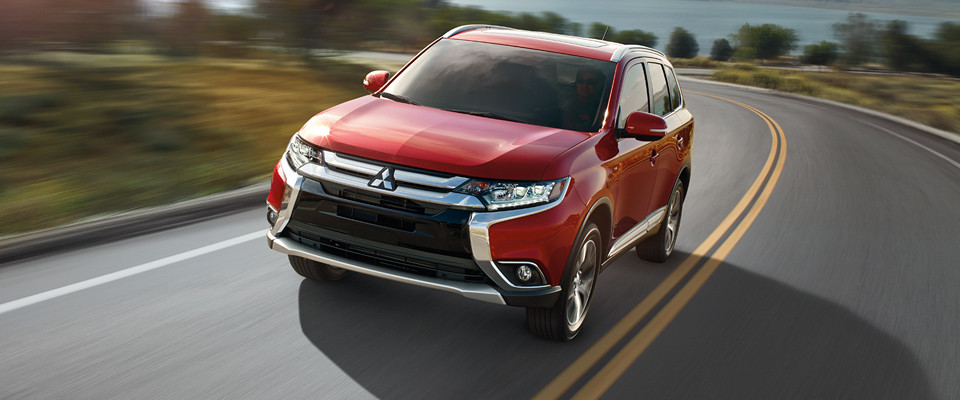 View 2016 Mitsubishi Outlander Inventory
2016 Mitsubishi Outlander for Sale near Menomonee Falls, WI
The 2016 Mitsubishi Outlander for lease in Menomonee Falls provides an enticing package of refinement and affordability. Visit Russ Darrow Mitsubishi - we guarantee excellent, helpful service.
In creating the 2016 Outlander, Mitsubishi did so with the desire of outperforming its competitors and doing so for a drastically lower price. People are noticing - Cars.com awarded the Outlander with a first-place ranking on its list of most affordable 3-row crossovers.
The Outlander SEL comes standard with leather seats, 18-in. alloy wheels, folding third row seat and dual zone climate control, with a starting MSRP of $24,995. The Outlander offers more features for your money, and its standard features are not standard on its competitors, even though they cost more. The Outlander comes with four trims: the ES, the SE, the SEL, and the GT. Each offer a separate set of options to satisfy your exact needs.
Two engines are offered with the Outlander, one being a 2.4 liter inline four and the other being a 3.0 liter V6. The 2.4-liter four generates 166-hp and is mated to one of Mazda's signature Continuously Variable Transmissions. By default, it will come front-wheel drive, but all-wheel drive is optional.The GT has a 224-hp 3.0-liter V-6, a paddle-shifted six-speed automatic, and all-wheel drive.
With specially-designed and strategically-placed bits of sound-deadening material, the Outlander provides a hushed, elegant interior. Mitsubishi designers went as far as to place insulation in the car's interior pillars, in addition to the typical material found in the floor and in the doors. For those who hate road noise but elegant acoustics, Mitsubishi has improved the sound of the door closing. Rather than a metallic clunking, you can appreciate a solid, luxurious woomph. Ahh, can you hear the luxury?
While Mitsubishi takes pride in offering the Outlander for less than similarly equipped (or, less equipped) competitors, that does not mean they took short cuts. Especially not when it comes to safety. Mitsubishi stands behind its product, offering a 10-year/100,000 mile Powertrain Limited Warranty, which is among the best in the industry. The Active Stability Control (ASC) monitors the real-time traction of each tire and applies the most braking power to those that have the best grip. In the event of a crash, specially-designed body construction allows for efficient of absorption of energy, distributing the force to keep you and all passengers safe. If you feel like it, you can think of these safety features as your new best friends. They won't leave your side.
The 2016 Outlander for lease in Menomonee Falls offers a remarkable amount of features and amenities, making it a must-see car for this model year. Visit the Russ Darrow Mitsubishi serving Menomonee Falls to test drive the Outlander today!
Directions to Mitsubishi Menomonee Falls
Contact us about the 2016 Mitsubishi Outlander