2015 Mitsubishi Outlander Sport available for lease in Waukesha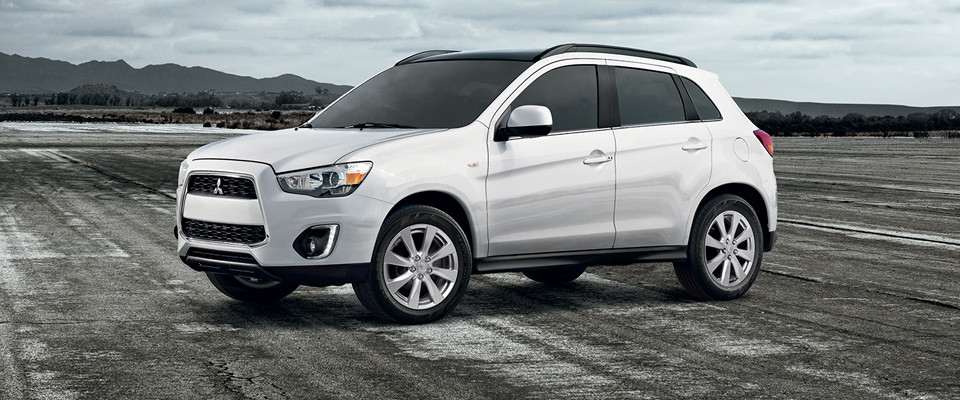 View 2015 Mitsubishi Outlander Sport Inventory
2015 Mitsubishi Outlander Sport available for lease in Waukesha
The 2015 Mitsubishi Outlander Sport available for lease in Waukesha is sure to send a rush of adrenaline coursing through your veins. Embracing the functionality and convenience of the Outlander and adding in an unmistakable swagger, the Outlander Sport is not a car you want to miss. Russ Darrow Mitsubishi in Waukesha has it available for lease.
In addition to its athletic and confident prowess, the Outlander Sport comes with numerous accolades. It has been the winner of the IIHS Top Safety Pick for four straight years. Also, Kelley Blue Book named the Outlander Sport to its list of "10 Most Affordable SUVs" for the second year in a row. The Outlander Sport is special, and we at Russ Darrow Mitsubishi aren't the only ones who've noticed.
You might be wondering what makes the Outlander Sport so outstanding. The available 2.4 liter generates 164 horsepower, designed to constantly optimize valve timing to achieve maximum efficiency and power. Thanks to this efficiency, the 2.4 liter engine can achieve 28 miles-per-gallon on the highway, which is more than respectable, considering the additional sportiness you get with this model.
Another special feature the Sport model brings is the push-button start. If you have your FAST-Key inside the car, all you have to do is press your foot onto the brake pedal and push the button. While some might say it's weird not having to turn a key, having a push-button start is a special experience in and of itself. It's an example of the most modern technology - an example we're wholeheartedly willing to accept.
With available heated front seats and leather-wrapped steering wheel and shift knob, you can enjoy the latest of technology while in ultimate comfort. Leather seats, aside from being exceedingly comfortable, are a status symbol - your car is special, all the way down to the seats and shift knob. Lastly, you can't go wrong with the Sport's Rockford Fosgate Punch premium sound system, which pumps over 700 watts through nine speakers for pure, uninhibited, unadulterated power! It delivers rich, satisfying bass and crystal clear, not piercing, high notes.
As always, Mitsubishi stands behind its product, offering a 10 year, 10,000 mile warranty. It combines this warranty with a 5-year/60,000-mile New Vehicle Limited Warranty, a 7-year/100,000-mile Anti-Corrosion/Perforation Limited Warranty and 5-years/Unlimited miles of roadside assistance. Not only did they provide you with an awesome car in the Outlander Sport, but they're always looking out for you.
The Sport's 7 standard airbags and rear-view backup camera are sure to give you peace of mind in your daily commute. Mitsubishi's Reinforced Impact Safety Evolution (RISE) frame utilizes crumple zones that route and absorb energy during high-impact collisions. Strategically-placed reinforcements at important body locations give the Outlander a stable and secure platform.
Those looking for a jaw-dropping, overachieving, and sporty crossover vehicle need look no further than the 2015 Outlander Sport available for lease in Waukesha. We at Russ Darrow Mitsubishi want to help you find a car you can drive with pride. Come take the Outlander Sport for a test drive today!
Directions to Mitsubishi Waukesha
Contact us about the 2015 Mitsubishi Outlander Sport